Our Flats
Residence Michelangiolo has 8 apartments on 3 floors. We have an elevator to help getting to the first and second floors.
This Historic Residence is set in one of the most exclusive residential areas of Florence, near Piazzale Michelangelo. Here you will stay in complete relaxation, surrounded by greenery and just a short walk away from the River Arno and the historical city centre.
The rooms are large, bright, spacious and airy with large windows overlooking our green garden.
We have kitchenettes in every apartment, which have the cooking facilities you need to prepare your own snacks and meals. The self-catering kitchenettes are discreetly stored away and give our guests the freedom to cook when and what they like.
We welcome children and have cots (free on request), high chairs and baby bath available for your use.
We offer free on-site parking for all of our guests. You can relax knowing your vehicle is close at hand for loading and unloading Unlike other hotels we don't charge our guests, and parking is free.
Every room has a view of the green gardens surrounding the property. Guests are free to roam around. Behind the villa there is a 500 year old church.
The garden is a good place to relax, and read a book. There are outdoor tables and seating areas for all guests to enjoy.
Every room is air conditioned, has free Wifi, satellite TV and telephones.
All of the apartments have the following:
•Free on-site parking
•Free Wifi
•Satellite TV
•Air conditioning
•Hypoallergenic mattresses and pillows
•Phone & hair dryer
•Kitchenette & mini bar
•Safety deposit
•Electric locking doors
The Classic Apartment Double for Single Use is a good choice for single travellers or individual professionals, the apartment has a king-size bed.
continue
The Classic Double Apartment is a perfect choice for travellers, couples and professionals, the apartment has a king-size bed. Guests have access to free parking inside the property.
continue
The Superior Double Apartment has all of the glamour and comfort of Residence Michelangiolo. Everything here is a little larger. The apartments are more spacious, with king-size bed.
continue
If you are travelling as a family, or as a group of four Residence Michelangiolo has two adjoining rooms giving you amount of access or privacy you want, the Superior Apartments for 4.
continue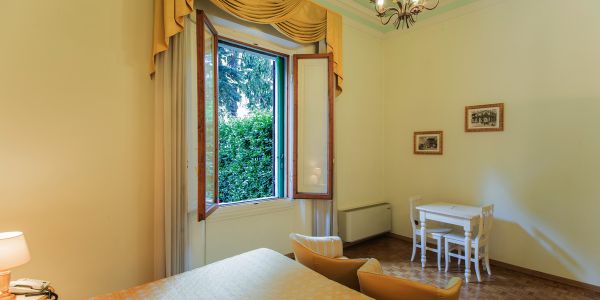 If you are looking for something extra special the Junior Suite is for you. The extra space, extravagant bathroom, and the canopy king-sized bed make this the most exclusive apartment.
continue